Plant Manager Review
May 2020
Construction software review in National Federation of Builders Members Magazine
Our Plant Manager Construction software helps recession hit companies.
Plant Manager software can help reduce plant hire costs by upto 30% by managing plant more efficiently.
In the current climate, reducing overheads is essential for most businesses, no more so than within the construction industry. According to a recent report published by Pricewaterhouse Coopers, 8 construction companies went insolvent every day during the last quarter of 2008. Controlling your plant costs and reducing your overheads has never been more important.
Joyce Plant software has enabled many construction companies to reduce costs by managing both their hired and owned plant much more efficiently. Features such as comparing supplier rates before orders are placed, invoice checking to ensure plant is not being incorrectly billed and warning when plant approaches estimated off-hire dates have helped companies reduce their annual spend on plant by upto 30%.
Our plant software has also enabled companies to manage their owned plant more effectively by improving efficiency by ensuring plant is only hired if owned plant is not available. Servicing and maintenance records can easily be maintained, and the construction software will even alert the user when a scheduled service is due. Reports can also be easily produced within the software, combining both hired and owned plant on the same document, allowing the Plant Manager to have all the information at hand to enable them to evaluate where plant levels can be reduced and lower costs.
One of the companies to benefit from our construction software over the past five years has been WestPoint Construction, based in Redditch. Plant Manager Wayne Butterfield commented :-
"Plant Manager has proven to be an effective means of tracking, costing, monitoring and achieving better utilisation of our plant and equipment, helping us to reduce costs."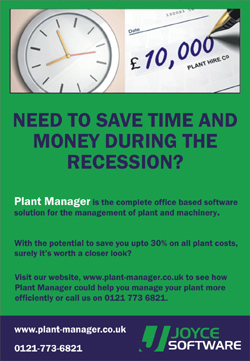 Discover the benefits of Plant Manager