Why Choose Us ?
Hire Plant Manager from as little as £38.00 per week
That's less than hiring a small item of plant !
The Package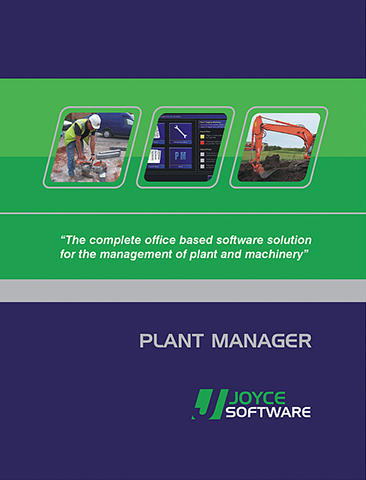 Plant Manager is available as a leased product with a 12 month minimum lease. It is available as a stand alone single version or as a network version for multiple users.
Plant Manager is backed by Joyce Software Services' training team and support. The support is inclusive within the lease agreement and consists of telephone, email and internet support. The support also includes any necessary updates and additional suppliers if required.
Joyce Software services can provide consultancy to help ensure than Plant Manager works within your existing computer system. We can also advice on hardware requirements and perform any installation that may be required.
Find out more about the many features of Plant Manager
Endorcements

Aviva
Plant Manager has been endorsed by Aviva Insurance.
"Having seen this package, it appears to be a first class product which could assist any sizeable construction company manage the whereabouts of the plant they own or hire in. This could ensure the company only hires in equipment they really need and the plant is hired in for the right periods of time."
"This package could really manage costs in difficult times and any reductions in hiring charges could result in lower premiums."
John Ashman, Business Manager

National Federation of Builders
Joyce Software are partnered with the National Federation of Builders.
The National Federation of Builders work closely with Joyce Software in order to promote the benefits of Plant Manager to the building and construction industry.
Experience
Joyce Software evolved from a construction company and we have used 30 years of experience in the industry to create this innovative software and understand the IT requirements of the sector
Over the past ten years we have worked with existing clients to continually improve Plant Manager.
We have succesfully built a strong client base from all areas of the United Kingdom and Ireland.
See what our Clients say about Plant Manager
Wide range of application